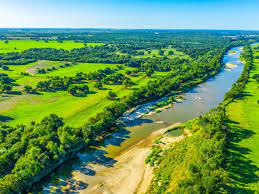 In 1855, Parker County was created by the Texas State Legislature and named for pioneer and State Representative Isaac Parker. Parker was the uncle of Cynthia Ann Parker, a little girl who was stolen from her home by Indians during the Texas Revolution.
Weatherford, the county seat, is thirty miles west of Fort Worth. The county was named for Isaac Parker. It covers 902 square miles of undulating to hilly land; elevations range from 700 to 1,200 feet above sea level.
On the crest of a divide between the Trinity and Brazos valleys, Weatherford, for its first decade, was the principal frontier settlement in North Texas. The town was incorporated in 1858, and a post office was opened in 1859. The new county seat was midway on the stage run between Fort Worth and Fort Belknap.
What is Weatherford Texas famous for? Now known as the Cutting Horse Capital of the World, Weatherford, Texas is home to hundreds of professional trainers, Hall-of-Fame horses and a breathtaking, life-size bronze cutting horse. "Cutters" from all over the country, send their horses here for training or breeding to the best studs in the industry.
Known for the Parker County peach festival, Take a trip back to yesteryear at the Parker County Peach Festival, held in Historic Downtown Weatherford, Saturday, July 9th, 2022 8:00 am to 4:00 pm. 2022 marks the 37th Annual Peach Festival which always takes place on the second Saturday in July.
***NOTE: This is the root of my mother's family. My grandmother and grandfather originally bought their land in the late 1800's from the Indians for 50cents an acre. Our family heritage runs all through Parker County.
Sorry we are experiencing system issues. Please try again.